National Youth Summit Held in Kenya to Avert Election Bloodshed
The following report was published by Naver News in Korea on the National Youth Summit 2013.
Published 02-03-2013 18:02
【Nairobi, Kenya】
By Young Joo Yim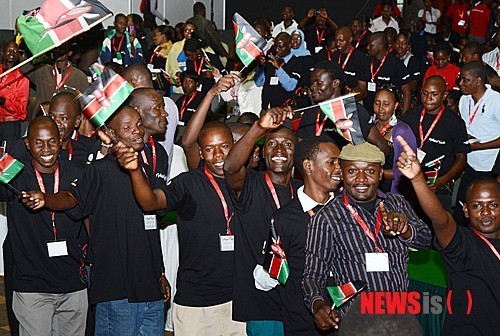 The National Youth Summit was held at the Kenyatta International Conference Center on the 31st of January. Young people from across the African Continent who aspire to renew and reform Kenya amidst challenges convened to develop peace based on common universal values and ensure a peaceful presidential election in March.
The tribal bloodshed in Kenya, sparked by election fraud in 2007, resulted in more than 1500 deaths.
Spearheaded by Global Peace Foundation (GPF) Chairman Dr. Hyun Jin Moon, the National Youth Summit was convened through with partners such as GPF, Brand Kenya Board, and Global Peace Youth Corps. Smaller summits were held for all 47 counties nationwide leading up to the summit that concluded on February 2nd with 2000 young leaders attending.
dasee@newsis.com
 http://news.naver.com/main/read.nhn?mode=LSD&mid=sec&sid1=104&oid=003&aid=0004961370
http://news.naver.com/main/read.nhn?mode=LSD&mid=sec&sid1=104&oid=003&aid=0004961526