Transcription : Hyun Jin Moon Speech
2013 June 14| Inter-religious Forum, Asuncion, Paraguay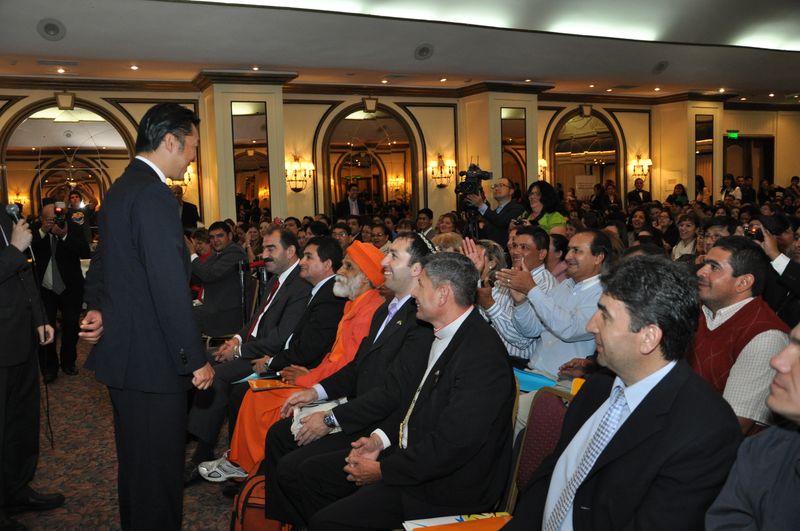 The Global Peace Foundation-Paraguay and the Ministry of Culture and Education of Paraguay co-sponsored an inter-religious gathering on June 14th, where Dr. Moon delivered the following address, stressing the need for religious leaders to work together centered on common universal principles like living for the sake of others.
Honorable Minister of Education, distinguished religious leaders, ladies and gentlemen. It is a distinct honor and great pleasure to be here in this beautiful land of Paraguay, which I consider my second home, here in the middle of the Americas.
Why is it that I see such hope in this small nation in Latin America? In 2008, I came to Paraguay, a nation I had never visited before, at the urging of my father, because the government of Paraguay was about to expropriate land that we had bought in Puerto Casado.
Also, our movement was under severe persecution, so actually my introduction to Paraguay was not a rosy one, but was on the foundation of great difficulty. When I first came here I met with then President Nicanor Duarte. We had a one and a half hour meeting, and I said to him that the most important thing for any truly great and free democratic nation is that it is rooted in principles and values— not just any principles and values, but spiritual principles and values.
I said that in the modern era, for the first time in human history, we take for granted concepts such as fundamental freedoms, fundamental human rights. This is because in this hemisphere a nation chose to challenge a world that was filled with monarchies and  absolute rulers.
As human beings, we are not given our freedoms and rights by any government institution or by any other human being. Those rights are conferred by God. And those rights are inalienable. We know that the document that affirmed those rights was the U.S. Declaration of Independence in 1776. The Declaration became an inspiration for a revolution  whose ideas have since advanced throughout the world—that human beings are sons and daughters of God, with innate human dignity, innate human rights, innate dreams, not conferred by any government institution.
The Declaration of Independence goes on to say that the purpose of government is to protect those rights, and that if government infringes on those rights, it is a right of the people to get rid of the government and establish another that protects them. Thus, In North America, we have a democratic, free-market nation that respects the rule of law and recognizes the importance of those principles. The southern hemisphere, however, has had a very different experience. Although you have had independence movements which sought to develop regional states and laws very much like North America, many of those independence movements fell apart. The nations that were ultimately established were reflections of old Iberian peninsula traditional cultural patterns.
Therefore, democracy and the free-market system here in Latin America were not as inclusive as democracy and free-markets in North America. I am not here to talk about the development of democracy, but I do want to make the point very clearly  that in order to build a great nation, it starts with spiritual principles, and recognition of where those spiritual principles come from.
What truly moved me when I came to Paraguay was that the mention of God, even in the civic square, was not something unusual or something one should be ashamed of. It was expected! If you do not mention God, if your faith is not projected in the civic square, you are considered strange. Unfortunately in North America, as well as other developed nations of the world, faith, especially the recognition and mention of God in the civic square, is less and less prevalent and even considered unusual. This nation, however, has not forgotten or abandoned God.
This is a nation that is not ashamed to recognize the centrality of God in daily life, nor the importance of spiritual principles and values that animate and articulate the life of its citizens. This is a nation that is proud of its heritage, but more importantly, proud of its faith. That faith is making a positive contribution in communities, in the nation, and eventually will do so in the world.
When I came here and met the Paraguayan people, I realized how special this nation is. I saw that it was a nation of faith and true to its commitment to God. I thought that when connected to the great opportunities of the world, Paraguay, once called the "Basket Case" of Latin America, could be a "city on a hill" and a beacon of hope for all people of faith around the world. This can be the beginning of a revolution.
That is why it was a simple decision for me to make in 2008, a landmark year for the Global Peace Foundation. We had festivals in 24 nations, on six continents around the globe. Yet, it was not difficult for me to decide that the first festival should be here in Paraguay! The message and vision that I articulated then was the vision of Uno Familia bajo Dios!
That revolution of spirit started here, in Asuncion, Paraguay. Yet, I believe that today's event is actually the most important. Because I'm not talking to business leaders. I'm not talking to political leaders. I'm not talking to civic leaders. I'm talking to religious leaders, who should be the conscience of the nation. Faith leaders need to demonstrate the moral authority that can remind citizens of this nation's deep-rooted spiritual heritage and encourage people to remain faithful in attendance to God. It is through Him that the nation of Paraguay can fulfill its national destiny.
I have always believed that this nation is the womb of Latin America. As the movement for the liberation of this continent started here in Paraguay, so the voice of liberation, the voice of a great spiritual awakening, should start here in Paraguay and spread throughout the entire hemisphere. This is your charge; this is your mission. This should be your life's devotion.
As people of faith, let us come together on the common platform of universal principles and values, and on a common vision to build one family under God. Then we can celebrate our differences and diversity, but at the same time, in purpose and in principles and values, stand in solidarity and build an exemplary nation that can help reform this continent and hemisphere.
As people of faith, we all believe in true love, living for the sake of others. This should be our common value, to live for the sake of each other and for the sake of our communities, for the sake of our nations, for the sake of this hemisphere, and for the sake of the world.
This is a special moment, yet, for this nation to be guided properly to its special destiny within the providence of God, it needs leaders. More than political leaders, more than civic leaders, more than business leaders this nation needs spiritual leaders. It needs leaders of faith who can remind the Paraguayan people that, regardless of whatever heights this nation reaches, we are a people who believe in God and the destiny of this nation is to be the womb of the continent and to give birth to a new Great Awakening.
Based upon the vision of One Family under God, and rooted in spiritual principles and values of living for the sake of others, Paraguay can move this entire hemisphere. And that hemispheric Awakening then should extend across the Pacific and the Atlantic, spreading the vision, planting seeds of hope and faith. It was said by a great man that if one person has a dream, that dream is fleeting. But if a 1,000 people dream that dream, it can change the world. This is a time, my Paraguayan brothers and sisters, that through you and your leadership, the seeds of the dream can be planted that can transform this nation, this continent, this hemisphere, and the world. And that dream is Uno Familia Bajos Dios.
I know that whatever blessings God gives this nation, this nation will be in good hands, in the hands of people of faith and conviction and with the quality of heart and mind to embrace not only Paraguayan people but all Latin America, the entire hemisphere, and the world. Thank you very much.