Global Peace Convention 2017: Influential Women in Leadership Panel
March 2nd, 2017 – Manila Marriott Convention Center & Hotel, Philippines
New Women's Leadership Culture for Peace and Development: From the Home to the World
To all the guests, aspiring leaders, and participants gathered here today, magandang umaga, good morning—welcome to this important forum to establish a new women's leadership culture for peace and development.
I especially wish to recognize the movers and shakers of the Global Peace Women's movement, including Dr. Nona Ricafort—I hear some audience had a chance to visit her house last night. I heard it was a great success—H.E. Hajiya Amina Namadi Sambo, Dr. Eva Latham, our great friend here, Hon. Cynthia Aguilar Villar, our dear friend Donna Schuller and Rachel Murray, Hon. Yunsook Lee from Korea, and Keiko Kobayashi from Japan. We're all honored to have all of you here.
Whenever I visit the Philippines, I feel warmly welcomed by my Filipino brothers and sisters. It is fitting that we are gathering in this beautiful country which has a legacy of great women leaders. I was also inspired to hear that during this Global Peace Convention the month-long Panagbenga Festival is taking place. Not only does this powerful festival celebrate the season of blossoms, but it also celebrates the rebuilding of Baguio City after the 1990 earthquake. We often associate blooming flowers with rebirth and new beginning. I hope that this gathering can nourish a new start of women's leadership in building peace.
The need to focus on women's leadership characteristics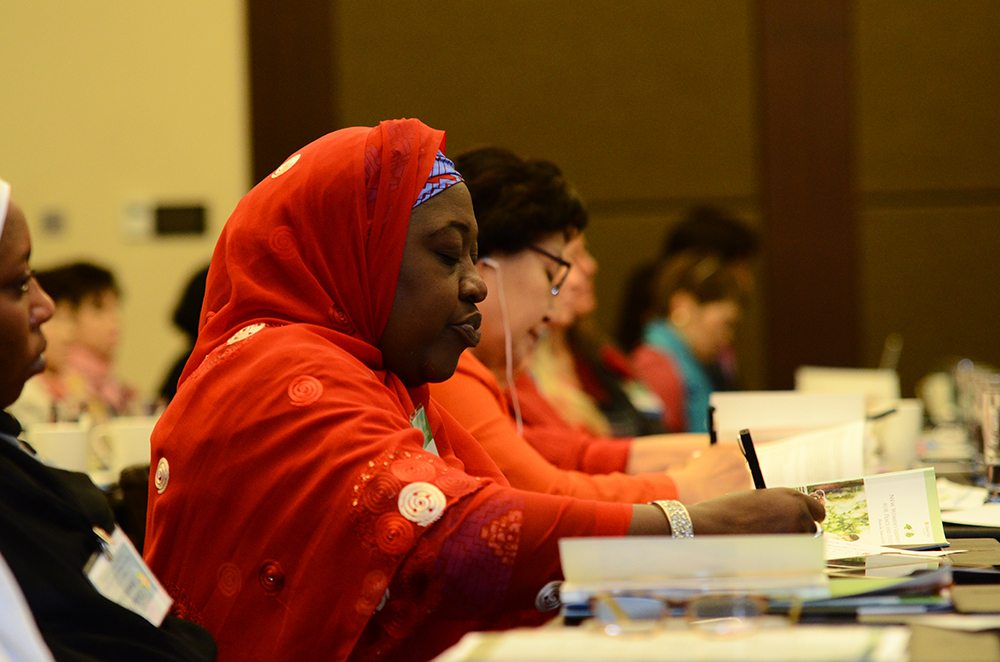 Today, the global community is making progress toward encouraging women's participation in peacebuilding. In 2000, the UN Security Council passed Resolution 1325 on women, peace, and security. More than 60 countries, including Uganda, the Philippines, United States, Nigeria, Korea, Paraguay, Japan, and Kenya developed national action plans to include more women in preventing and resolving conflict and sustaining peace.
Although the effort to increase engagement is very important, our focus should not only be limited to the number of women leaders. I invite you to also consider, what are the greatest leadership qualities that women should aspire to cultivate?
Uplifting women's value as endowed by God
Global Peace Women believes that leaders must first appreciate their own value to understand and respect the value of other people. For this reason, women's leadership starts with cherishing our innate value as women.
Did any of us choose to be born as a woman or man? None of us chose our identity at birth, but this is our God-given destiny. Both men and women are endowed with intrinsic value by our Creator, and the qualities of each are complementary and essential. The characteristics of women provide an environment where peace can take root and grow on every level.
Yet the world struggles with gender-based violence, human trafficking, and many other social problems because family members and women themselves do not recognize their value. What about us? Do we truly recognize our highest value as a representative of womanhood?
One of Global Peace Women's priorities is thus to uplift the value of women around the world. For example, GPW Kenya launched a mentorship program for university students and young professionals to work with teenage girls from urban slums. By helping them to understand their value, young women will find the strength to rise above the challenges of drug abuse and teen pregnancy. They will benefit from role models and life skill education to build healthy, successful futures.
Women's leadership in the family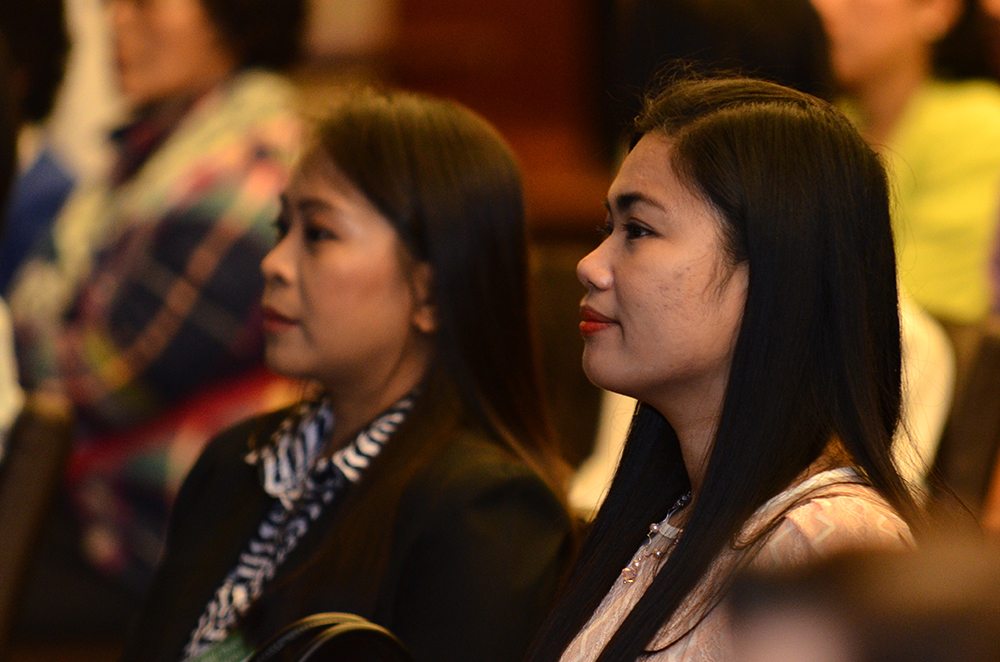 It is said that women provide a foundation for peace as "The Pillar of the Family."  Daughters are more likely to care for their elderly parents and siblings. Numerous studies have found that, because of their warm emotional support and frequent communication, sisters develop really harmonious relationships with their siblings.
Most importantly, mothers devote themselves to nourish, educate, and raise children from conception. From painful labor and throughout the child's life, mothers embody a sacrificial heart for the sake of the next generation. I am happy to hear that, already, the girls in this program are gaining self-confidence and respecting themselves more. This understanding of self-respect naturally leads to respecting and appreciating the value of other people. Relating with our family and community members in this way creates the harmonious culture of One Family under God.
In the family–I can use my own children as an example–the girls have very different qualities from the boys. When Mother gets sick or siblings get sick, they come to me and say, 'Mom, is everything ok? Is there anything I can do?' Even at 8 or 10 years old, my daughter always brings me medicine. But sons show their love in a very different way. 'Oh mom, are you sick? I hope you get better soon.' That's it, right? But I can still feel their heart. It's just the way they show their love and caring. So even through raising children, I can definitely see the differences between men and women from a very young age, and I really appreciate the Creator for creating two different genders. He did so because there is an absolute necessity for two different genders, because they complement each other and they absolutely need each other. In raising daughters, I many times feel that the experience she has when she is young, the learning she gets from her mother, will naturally instruct her when she grows and becomes a mother herself, so that even without me telling or teaching her, she innately will have that love for the caring of children.
At her best, a mother is the lifelong source of unconditional love, harmony, and counsel. Together with the father, a mother instills the core values and moral compass in children so that they can make wise decisions, navigate relationships, and contribute to society. Virtuous mothers ensure that global peace begins in the home, one family at a time.
A balanced understanding of women's leadership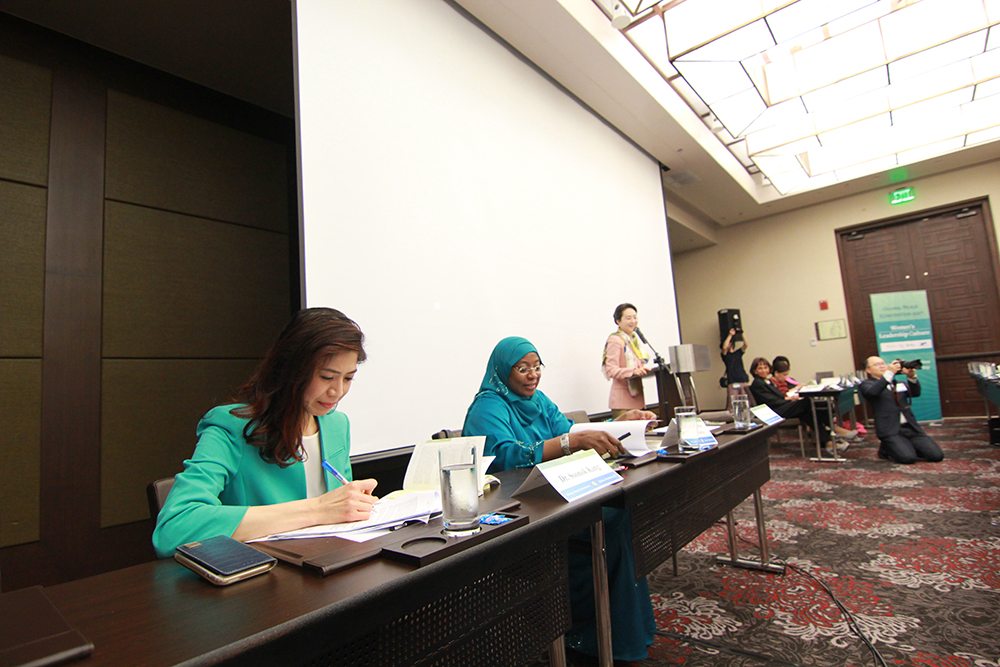 Unfortunately, the public and media often overlook the peacebuilding impact of women leaders in the family. In some cases, women's contributions in the home are even described as demeaning. Rather than appreciated for the nurturing heart of a daughter, sister, wife, and mother, women's roles in the family are often disdained. This is because we live in a culture that values career advancement and material gain above all else.
The truth is, the family is the hub and model for all other social relationships. No one can deny that healthy and happy families depend on women's unconditional love and sacrifice for the family. Peace begins in the home because it is where we learn to trust, respect, and work together with members of our human family. The warm and nurturing family environment that women create is the model for the peaceful world of One Family under God.
Women also play a crucial role as peace educators. For example, GPW Korea initiated a program for unification education in the home. As you may know, the 70-year division between North and South Korea has also divided the hearts and minds of the Korean people. This is a huge challenge to Korea's unification. Therefore, South Korean mothers in this program try to teach their children at home, whenever they find the chance, that North Koreans share a common heritage and that they are their family members.  Women-led education is thus healing the division of the Korean people's hearts to prepare for Korea's peaceful unification.
The extended family model for peace
Ultimately, GPW believes that true women leaders should aspire to embrace all human beings as members of their own family. This culture is embodied in the intergenerational extended family model.
My husband, Dr. Hyun Jin Moon, emphasizes the importance of the extended family model in the peacebuilding process in his recently published book, The Korean Dream. He writes,
"The structure of the extended family with its many different roles creates a framework for intergenerational cooperation and a wide variety of relationships through which we can cultivate the best elements of our humanity. These lessons, taken to heart by each new generation raised within the extended family, allow us to relate together with other human beings in a cooperative, peaceful, and cohesive manner, whether in the smallest social unit of the family, or the largest: the global community."
In order to facilitate this ideal, GPW launched the extended family movement through forums and family festivals in nations such as Uruguay and Nepal. Also in the Philippines, I heard that you have the custom of mano. This is when children greet elders by asking for their hands to receive blessing and wisdom. It is a beautiful expression of intergenerational respect. Just as parents serve their grandparents and grandparents educate and love their grandchildren, we naturally cooperate and help each other harmoniously across generations in the family. We want to replicate this culture in society by relating and cooperating with others like our own family members. Traditions that celebrate these types of extended family relationships create a loving and peaceful environment.
Women's leadership strengths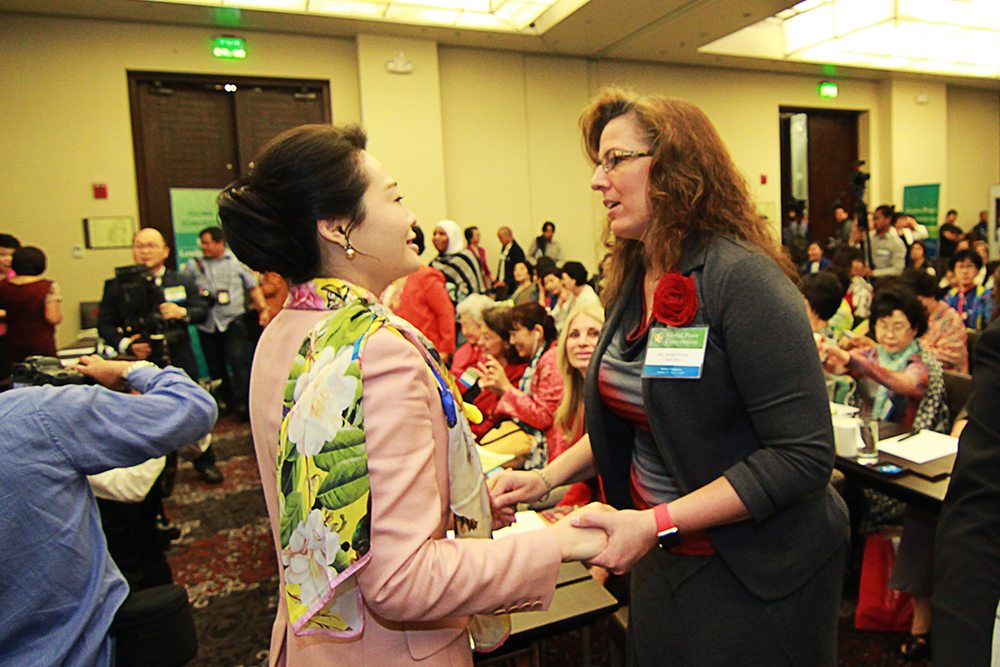 For the extended family model to succeed, women's roles are indispensable. After all, women are natural peacemakers. Mounting evidence shows that women promote peace and security through increasing dialogue, building consensus, and de-escalating tension. Experts say that the 2014 Bangsamoro peace agreement in the Philippines was successful because of women's leadership. Many Filipinos agree that Ates (older sisters) are less likely to be perceived as threats, and more likely to compromise with empathy and love to achieve common goals. Women legislators are also more likely to prevent the recurrence of conflict by caring for marginalized populations.
Global Peace Foundation's One Family under God Campaign in Nigeria is a good example of how women strengthen reconciliation. Women from different religious, ethnic, and tribal backgrounds came together to serve the community. These different groups have a history of conflict and tension but women were instrumental in bringing them to understand each other and collaborate. This demonstration of thoughtfulness and warmth shows that women leader's strength is in creating an environment of harmony and cooperation.
The core of the example above is the culture of selfless service and unconditional love. These traits are essential to women's efforts in building bridges of peace. To promote this ideal, GPW Paraguay created the Living for the Sake of Others Award to honor service-minded women leaders. For the past 8 years, we have discovered many unsung heroes who are under-appreciated for their devotion to service. By recognizing their merit, GPW Paraguay is encouraging and inspiring more women to follow in their footsteps.
Conclusion
Ladies and gentlemen, I want to remind everyone that the dream of peace requires each of our efforts. For women to fully promote and sustain peace throughout the world, their innate God-given value should be recognized and celebrated on every level. Let us cherish who we are as women, and let us strive to become harmonizers and peacemakers in the family and society. As the Global Peace Women motto states, 'peace begins in the home.'
I am honored to be among such great women who deeply love God and are dedicated to peace. I hope that you can join with me in committing our hearts, effort, and unique qualities to this noble cause.
May God bless you and your families.
Salamat po. Thank you very much
See more reports from the Global Peace Convention 2017.