The following feature article on Global Peace Foundation-Korea President Kyung Eui Yoo was originally published in the Weekly Donga, from Korea. It was reported on http://www.gpfkorea.org/. President Yoo talks about the All-Lights Village Project, Korean Reunification and his thoughts on the importance of sportsmanship for international civil diplomacy.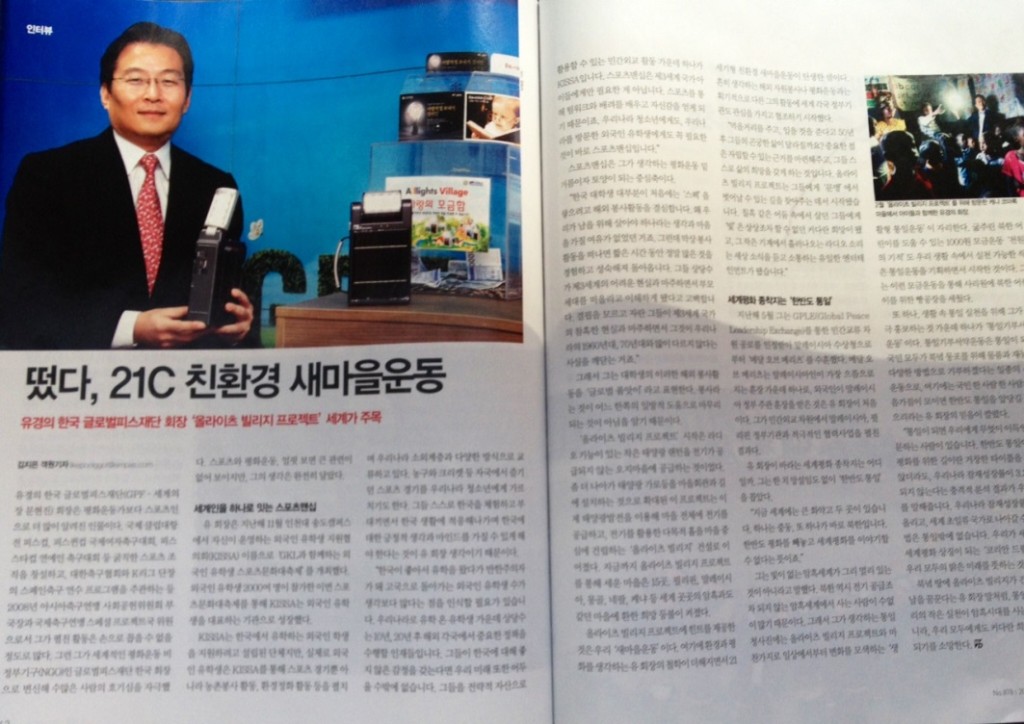 By Ji Eun Kim likepoolggot@empas.com
"Global Peace Foundation-Korea President Kyung Eui Yoo's All-Lights Village Project Receives International Attention "
Global Peace Foundation-Korea President Kyung Eui Yoo is better known as a sportsman than a peace activist. He has been engaged in numerous athletic activities and programs: he founded several sports organizations, including the International Peace Cup, International Women's Soccer Cup, and the Peace Star Cup Celebrity Soccer Tournament. He also organized a soccer training program in Spain for the Korea Football Association and was K-league director. In 2008, he worked as Deputy Chairman of the Asian Football Confederation Social Responsibility Committee and for FIFA's Special Project Office.
His new role as Global Peace Foundation-Korea President triggered many people's curiosity. At first glance it is not easy to find the relation between sports and peace initiatives, but President Yoo has a totally different perspective.
Sportsmanship connects people from around the world

In November of last year, President Yoo organized a Foreign Students Sports and Culture Festival on Incheon University's Songdo Campus , hosted by KISSA (the Korean International Student Support Association), which he also runs. The Sports and Culture Festival was a great success, attracting 2,000 foreign students. KISSA has since become a major agency that is working with foreign students.
KISSA was founded to provide support for foreign students studying in Korea, but KISSA has also opened avenues for foreign students to get involved in different programs like sports matches, agricultural volunteering, environmental clean-ups and outreach to people who have been isolated in Korean society. The foreign students sometimes teach Koreans sports that they enjoyed in their home countries like basketball and croquet. President Yoo believes that getting an authentic experience helps the foreign students adjust to their lives in Korea and will leave a positive  impression of their time in Korea.
"We need to acknowledge that there are some foreign students who love Korea at first but end up really disliking Korea. The majority of foreign students who come to study in Korea are the cream of the crop that will in 10 or 20 years be defining the important policies of their home countries. If they have negative sentiments towards Korea, our future will be bleak. We have to engage their assets strategically. KISSA is a channel for civil diplomacy.
Sportsmanship is not something that only children in the 3rd world countries need. Through sports, one learns how to create team work, be considerate of others, and boost self-esteem. Koreans and foreign students can both benefit from sportsmanship.
President Yoo sees sportsmanship like the fertilizer or soil for peace initiatives. To him, it is a central element.
"Most college students in Korea decide to go abroad to volunteer just to add something to their resume. They do not see the importance of living for others. But when they actually go abroad, even though it's for a short period, they have a tremendous experience. They come back  much more mature. Some of them confess that the harsh reality of the developing world reminded them of their parents' generation. This generation hasn't experienced poverty the way their parents have. When they see the dire situation of some of these developing countries they realize Korea was not much different in the 1960s and the 70s."
He knows that service is not effective when it is just a one way interaction.  He sees overseas service activity as 'Global Exchange.'.
'The All-Lights Village Project' supplies solar-powered lanterns equipped with a radio to remote villages that do not have access to electric power.
It also installs solar-powered streetlights for the community hall and streets. This project is moving into the level to build multi-purpose halls in the center of the villages and to eventually supply electricity to the entire village through developing the villages' solar energy capacity. The All-Lights Village Project has brought the bright light of hope so far to 15 villages in the Philippines, Malaysia, Mongolia, Nepal, and Kenya that used to be pitch-dark.
The All-Lights Village Project gets some of its inspiration from Korea's 'Saemaul Undong' (New Village Movement). President Yoo added his  concern for the environment and peace to birth this 21st century rendition of an eco-friendly Saemaul Undong.
President Yoo's activities are unlike any other overseas service and peace building initiatives; and they are attracting the interest of government agencies in various countries, some which are now project partners. .
"If we give them food and clothing, will it impact their lives 50 years from now? We focus on giving them a foundation for self-reliance. We want them to feel that their lives are full of hope.  The All-Lights Village Project was first conceived as a way of reducing illiteracy.  For these people who had been living in darkness, the 'lights' brought more hope we ever imagined. The radio has also opened the world to them: they hear news and have a form of entertainment."
The Final Destination of world peace is "Korean Reunification"
Last May, President Yoo received the 'Medal of Merits' from the Malaysia Awards Office in recognition of his efforts made for civil exchanges through the Global Peace Leadership Exchange. The Medal of Merits is one of the greatest honors in Malaysia. President Yoo is the first foreigner to ever receive a medal from the government of Malaysia. His enthusiastic partnership and civil diplomacy with Malaysia and the Philippines is bearing fruit.
What then is the final destination of world peace for President Yoo? Without hesitation, he utters, "The  'reunification of Korean peninsula."
"There are two major hot spots in the world. One is the Middle East, the other is North Korea. In other words, we cannot talk about world peace without talking about peace on Korean peninsula."
President Yoo reminds us that there is a world without light not far from where we live. In North Korea there are countless people who are living in the dark without electricity. A part of President Yoo's strategy for reunification is the "Everyday Reunification Movement". It is seeking to bring reunification into the lives of every Korean by giving them simple ways to contribute. Campaigns like the All-Lights Village Project. and the "Miracle of 1000 Won" fundraising drive which has raised enough to  build a bakery in Sariwon, North Korea to provide bread for children of the city, are enabling Koreans to be a part of reunification in their everyday lives.
One of the programs he is promoting to bring reunification into our daily lives is the 'Korea United Pledge Drive.' The pledge asks a signer to pledge goods, money, time or talent to help North Korea. This is based on President Yoo's belief that if every single Korean invests their whole heart into the reunification of the Korean peninsula, it will happen soon.
"Some might ask about the benefits of Korean reunification. We do not need flashy mottos to tell us that the reunification of the Korean peninsula will lead to world peace. Current data shows that the potential growth of Korea is only 3.3 %. This says something about our future. Reunification is the only way to increase Korea's growth potential to make it one of the world's top nations. The 'Korean Dream' of becoming a symbol of peace to the world signifies also our bright future."
Just as President Yoo dreams of the day that an All-Lights Village will be built in North Korea, each of us can make efforts on a daily basis to bring reunification closer. This will become a great beacon of hope for those living in the dark as well as for us.