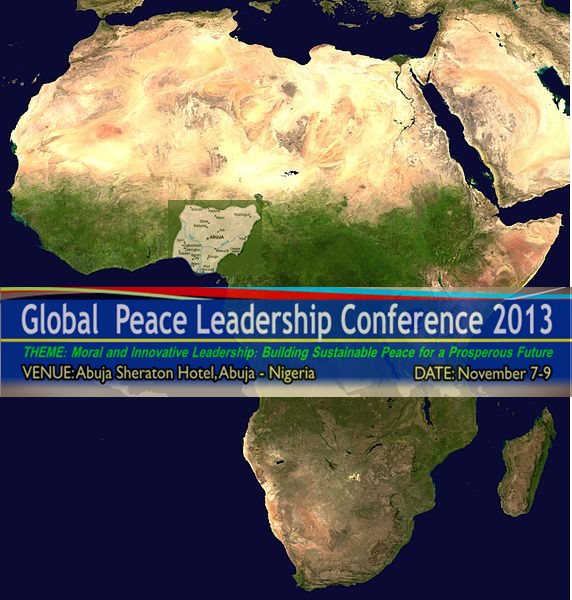 This past year, the Global Peace Foundation has started assertively working in Nigeria to bring together religious and traditional rulers.
Recent violence by the Boko Haram, a militant Muslim group that has allegedly claimed the lives of thousands, has garnered international attention. In May of this year, President Goodluck Jonathan declared a state of emergency in Northern Nigeria due to heightened violence. Not long after, GPF hosted a high level consultation in Abuja to address the issue of national unity and integration with religious and traditional leaders.
Nigeria is richly diverse, with more than 250 ethnic groups, each with its own language, custom and religion. Although each traditional kingdom has its own religious tradition, generally Nigeria is divided into a Muslim north and a Christian south. What should be a source of unbelievable innovation, has been a source of violent identity-based conflict.
At the consultation, International President of GPF, Jim Flynn told faith leaders, "Based on a common commitment to shared values and their own moral authority, religious leaders and traditional rules can serve as the conscience of the nation." His statement speaks to Nigeria's history of political corruption and religious conflict that has caused decades of instability. Pastor Ayo Oritsejafor, the President of the Christian Association of Nigeria echoed the call, "If we must build a new Nigeria, if we must build a great Nigeria, then all of us together must do everything it takes to build peace. Peace is necessary, peace is possible." A new era for Nigeria would signify a new era for Sub-Saharan Africa.
Nigeria has incredible potential if it can secure peace. It is called the "Giant of Africa". Reportedly, one of four Africans is Nigerian. It is also considered one of the "Next Eleven" economies, partially due to its rich oil reserves. Nigeria is the 12th largest producer of petroleum in the world and the 8th largest exporter. It also has one of the fastest growing telecommunications markets in the world and has a thriving large agricultural base thanks to its tropical climate. Yet internal conflict, political instability and corruption have hindered Nigeria from fully exerting its potential.
Today it ranks around 160th out of 177 countries on the scale of the Human Development Index, with nearly half its population living in poverty and an infant mortality rate of 80 deaths per 1,000.
Nigeria is a relatively young country, but has struggled to maintain stability. It was a British colony during the 19th and 20th century that gained
independence in 1960 after World War II.  Nigeria established itself as a Federal Republic in 1963. In 1967, the cessation of the region of Biafra led to the Nigerian Civil War. Before that, the government was passed from one military leader to another. The 30 month war claimed around 3 million. For the next three decades, Nigeria fought to move past corruption and a trend of military coups. The first recognized free and fair and election was held in 1999, nearly 33 years after Nigeria established nationhood. Since then, it has held four peaceful elections, but political instability and simmering divisions between religious and tribal communities continue.
The upcoming Global Peace Leadership Conference, to be held from November 7-9 in Abuja, will be an opportunity for religious leaders and leaders from every sector of Nigeria to commit to working for a common peace for their country. Furthermore, the conference will launch the African Leadership Mission, similar to the Latin American Presidential Mission. When the Giant of Africa joins forces with Kenya, the land of Harambee, it will bind Eastern Africa and Sub-Saharan Africa in a mission to bring peace across the African continent.
To register visit: www.globalpeace.org