The first World Peace Award Forum was held from April 17-18, convened by Shaikh Majd bin Mohammed bin Rashid Al Maktoum, Chairman of the Dubai Culture and Arts Authority.  The vision of the forum, the first of its kind, is "to make global peace a reality" through inter-religious and international dialogue that cross-pollinated effective peace building practices. The actual World Peace Award is scheduled to be launched next year in 2014.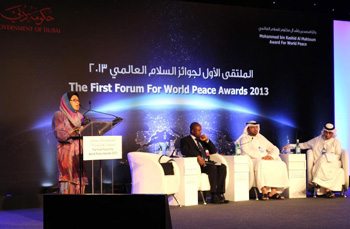 Dubai has become a cosmopolitan haven in the Middle East where international business and culture thrives. Secretary-General of the Mohammed Bin Rashid Al Maktoum Award for World Peace, Mohamed Buhannad, described Dubai as a "multi-cultural, multi-national city where different religions live peacefully."
United Arab Emirates itself has made significant investment in development and peace. This year it was ranked 16th by the Organization for Economic Cooperation and Development for amount of Gross Net Income (GNI) spent on foreign aid, outranking the United States and Japan, who have ranked 20th and 26th respectively.
Participating organizations at the forum included, University for Peace in Costa Rica, Seoul Peace Prize from Korea, and the Global Peace Foundation (GPF). Hon. Tan Sri Datin Paduka Seri Hjh Zaleha Binti Ismail, Chairman of GPF Malaysia, spoke on strategies and initiatives that GPF has implemented in Malaysia, including Midnight Football, a program co-sponsored by the Asian Football Confederation, that engages youth in character education and sports in Malaysia to get them "off the streets and on the ball."
Mr. David Caprara, GPF Vice President of Strategic Partnership, also presented on GPF's Global Peace Award, which has been presented annually to recognize outstanding leadership in areas such as philanthropy, interfaith cooperation, social entrepreneurship, strengthening the family and good governance. Among Awardees are Kenyan businessman and philanthropist Dr. Manu Chandaria and Indonesian environmentalist Tri Mumpuni. The Award recognizes that common principles and values are what undergird any significant progress achieved in peacemaking.
GPF's annual convention was also advertised at the forum.
For reports in the news:
Original post from www.globalpeace.org