04/26/2013 14:12
http://gpfkoreablog.org/130167015620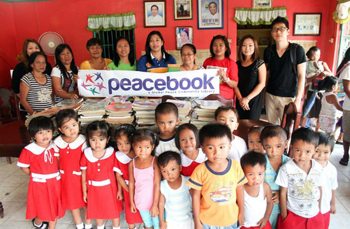 Donating  PeaceBooks to the children of Filipino All-lights Villages 
The children living in All-lights Village of Nueva Ecija in the Philippine sometimes cannot afford textbooks. But, Global Peace Foundation-Philippine's Peace Book Campaign (PeaceBook) is collecting books for leisure reading and school textbooks. A shipment recently arrived for children at All-lights Village No 4 in Cabiao and No 5 in Nambabakaran.
Why books?
You might wonder, "Why books?" And be asking, "Why not clothing or food?"
Experts attribute Korea's "Han River Miracle"(the rapid development of Korea after the Korean War) to the eradication of illiteracy. Even up until the Korean War, there were many people who could not read and write.
The government realized that reducing illiteracy could stimulate economic development in Korea and launched a campaign to end illiteracy. Schools were built, books were distributed, and children received schooling regardless of their economic background. Children who grew up in that era were cramped into classroom with 50~60 kids.
A common aspect of developing countries including the Philippines is high illiteracy. Which has hampered integration and advancement of the nation.That generation studied hard. For them the lack of education was the most miserable state to be in. As a result, Korea has a literacy rate of close to 100 percent. The Miracle of the Han River leapt into the ranks of developed nations and had unthinkable opportunities like hosting the World Cup and Summer Olympic Games.
Reading a book signified national advancement.
'Peace Book Project (Peacebook)'
The Global Peace Foundation-Philippines launched the PeaceBook campaign last year to collect books for the children living in All-lights Villages.
The response was incredible. A family donated all the elementary school textbooks from their children who  had moved onto intermediate school In addition, University of Makati, Philippines, agreed to donate their textbooks to All-lights Village.
Books began to pile up in the office. Some days boxes of books would arrive. PeaceBook was deemed a success.
Last month, books were delivered to the Multi-purpose Hall at All-lights Village No 4, Cabiao, and No 5,
The books, gifts from the hearts of the donors, will open up dreams to the children of the All-lights Villages.
PeaceBooks heading for All-lights Villages. Although they are old and worn out, they are good enough to shine a light on the children's future!
All-lights Village children are studying with peace books. Not only children but also people of all age groups read books and study in the multi-purpose room. This room has been painted by college students who came here on global exchange last January.
Peace Book, Donated children of All-lights Village in the Philippines |Written by Global Peace
This post originally appears on www.globalpeace.org