Nearly 40% of the Korean diaspora lives in China. A large concentration resides in Yanbian, making up 32 percent of the prefecture's total population.  The autonomy the region enjoys as a whole is also closely linked to the large Korean population. Korean is recognized as one of the official languages.  The majority of those who moved to the region from Korea arrived between 1845-1945, around the time of the Japanese colonial occupation of the Korean peninsula. Most of these residents have rarely, if ever, traveled to Korea.
In March 2015, the Global Peace Foundation-Korea, the Korean International Trade Association (KITA) and the China-Korea Hanmaeum Association hosted a history and cultural education tour of Korea for 40 of these ethic Koreans from the Yanbian region.
The tour was appropriately themed "나를 찾아 떠나는 여행" or Traveling in search of one's self, borrowing from the title of a best-selling novel by the same name. Over the course of two days and one night, participants traveled their ancestral homes through the Gyongju region of South Korea.
The group followed the footsteps of their ancestors. They visited the Daereungwon Tombs, burial grounds of the Silla Dynasty royal family; Cheomseongdae, built in the 7th century, claims to be the oldest astronomical observatory in East Asia; Wolji Pond, a man-made garden pond in Donggung Palace; and Bulguksa, whose impressive stairwells lead up to the heart of the Jogye Order of Korean Buddhism.
Local tour volunteers took extra care to explain the significance and historical background of each stop to this group of long-lost brethren. The program also included lectures by historians and experts. Historian Lee Jae Hee walked the groups through the history of the Three Kingdoms and United Kingdoms.
Korea International Trade Association chairman, Kim Young Sun, noted the significance of Koreans in China coming back to learn and experience their history and culture.
At the conclusion of the tour, Global Peace Foundation Korea President, Mr. In Taek Seo called on participants to take an active role in reuniting their homeland. Many participants expressed support for the Global Peace Foundation's approach to Korean unification that focuses on shared principles stemming from the ancient Korean philosophy of "Hong-ik Ingan", living for the benefit of humanity. They also had spirited discussions on the role that the Korean Diaspora in China could play in securing unification.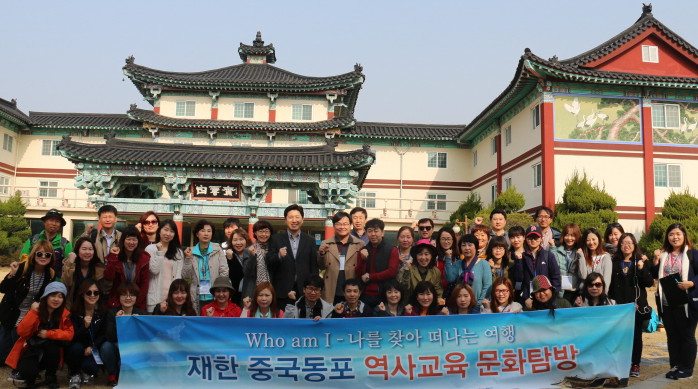 The Global Peace Foundation – Korea plans to continue similar programs to engage the Korean Diaspora scattered around the world in the unique mission and spirit of Hong-ik Ingan.
For the original story visit: www.globalpeace.org