In many respects, 2014 was a challenging and troubling year. There seemed to be no end to the violence, religious extremism, ideological division, identity-based conflict, natural and health disasters, poverty and threats to basic human rights. Every corner of the world, from the Middle East to Africa, Europe, Asia and the Americas, was or continues to be challenged.
And yet, times of challenge and change are defining moments in history. When we are tried and tested to our limits, we also have the opportunity to dig deep and rediscover the universal principles that undergird all of life and reality.
These principles, affirmed in the wisdom of the spiritual and religious traditions of the ages, point a way forward in the vision of "One Family Under God".
This vision has contributed to a number of significant areas such as
The reunification of the Korean peninsula and Northeast Asian security
Bringing together faith and religious leaders in Nigeria, Ireland, India and the United States to address identity-based conflict
Charting a roadmap for national transformation in the Americas, particularly in Paraguay.
The timeliness of the vision of "One Family Under God" is illustrated by these milestones and the ever expanding network of global leaders.

Reunification of the Korean Peninsula
I first posited a vision for unification three years ago while preparing for the Global Peace Convention 2011 in Seoul.  I was told that unification was not a "hot topic" and that I should consider domestic issues like "social welfare."  Hon. Lee Ki Taek was one of the few people willing to entertain the dreams of this idealistic, Korean-American. Three years later, the tide has turned. Starting with President Park's declaration that Unification was a "jackpot" at the beginning of the year, leaders from the highest levels of government to the grassroots civil society, both conservatives and liberals have begun to consider unification as the only viable solution to the longstanding division of our homeland.
The publication of my book, The Korean Dream, has changed the conversation surrounding unification. I believe, more than ever, we are called to our higher selves, to the Korean identity that we find at our very beginnings in the Hongik Ingan ideals. Our highest aspirations and dreams as one Korean people can serve as the foundation for a united nation that brings "broad benefit" to the whole world.
The Global Peace Leadership Conference in Seoul on September 9-10 launched the book and was also a catalyst for broad-based national and international engagement. The Conference launched a series of subsequent forums in the U.S. as well as in Korea on this vision for a unified Korea. I hope to see more of the same around the world between those of the Korean diaspora as well as the wider global community.
A unified Korea has so much more to offer the world and I hope to work towards fulfilling my own father's lifelong dream of one Korea as a model of One Family Under God.

Roadmap to National Transformation
 When we held the first Global Peace Festival in Paraguay six years ago, I was moved  by the Paraguayan people's earthy humility and generosity. Every time I return, I am reminded of the humble meal I shared in Maria Auxiliadora. I was touched by how people with so little could give so much. It was a living testament to Paraguay's greatest asset, its people.
This year we came full circle to return to Paraguay for the Global Peace Convention 2014 to what I believe has become a very different country. Although the people are the same – valuing God, family and community – there has been a tremendous awakening in consciousness.
When a society begins to realize the inherent dignity and spiritual identity of all its citizens as One Family Under God, policy and economic changes have to follow. This is at the heart of what is happening in Paraguay.
We saw this on a certain level in terms of individual human rights with the civil rights and independence movements in India, South Africa and the United States but we still have a long way to go.  Yet, I think we are on the right track.
In Paraguay, this awakening has affected the political and economic institutions in ways that can propel Paraguay forward as the "womb" of a Latin American renewal based on universal, spiritual principles and values that the region so clearly needs.
The world came to Paraguay during the convention — some delegates traveling four days to study Paraguay's model towards "national transformation." While there has been quite a bit of excitement about the new economic possibilities of the Korea-Paraguay railway feasibility project, it is absolutely essential to point out that these economic developments are the results of social change that in turn impacted political stability and economic development, not the other way around. I hope Paraguay's example can be studied and applied to emerging nations.

Interfaith Cooperation to Address Identity-Based Conflict
In the past 20 years there has been so much talk of "competing moral worldviews", a "clash of civilizations", globalization, identity-based conflict and the need for a global ethic. The year in news around the world has emphasized perils of not having a clear set of ethical guidelines to mitigate violence and encourage cooperation; the rise of ISIS, rising violence in Ukraine, the Ebola crisis across West Africa, racial tension and protests in the United States have been some of the most prevalent.
The vision of "One Family Under God" has become a platform for cooperation in a number of regions that have been struggling with identity-based conflict.
Nigeria
In Nigeria the "One Family Under God" has become rallying cry for religious and faith leaders to work together to address continued Boko Haram attacks, the ongoing #BringBackOurGirls controversy and the ever present threat of religious and tribal conflicts that simmer amid growing tensions related to the presidential elections in 2015.
Following on the launch of the One Family Under God campaign during the Global Peace Leadership Conference in 2013, the Global Peace Foundation in Nigeria has been working on a Kaduna State pilot program to substantialize the growing consciousness that we are "One Family Under God".
Local religious and government leaders have worked side by side to educate and create cross-community engagement and peacebuilding programs. A number of these programs have gained national recognition such as the recent Christmas get-together hosted by GPF-Nigeria and H.E. Fatima Yero, wife of the governor of Kaduna State where Muslim and Christian leaders of the Jama'atu Nasril Islam (JNI) and the Christians Association of Nigeria (CAN) have pledged to work together to resist the use of violence in the upcoming elections. Other projects include a joint community bridge building project and the upgrading of a local community hospital's security system. Significantly, all direct outgrowth of our programs in Nigeria.
In October, we also held a Global Peace Leadership Conference in Northern Ireland, bringing an important delegation of traditional and religious leaders from Kaduna State to Northern Ireland. GPF's global partner, Cooperation Ireland shared some of its best practices and the lessons learned from over 30 years of cross-community peacebuilding and engagement programs.  Both groups were able to reflect on the substantial progress made in both communities as well as ongoing struggles to go beyond racial and religious lines of identity.
India
In India, over 300 faith and religious leaders, academics and renown interfaith activists convened for a Global Peace Leadership Conference in New Delhi from December 9-10, 2014 that culminated with the Declaration for a Vision and Global Framework for One Family Under God. Its preamble begins:
 The world today faces a spiritual crisis, as evidenced by the continuous rise of identity-based conflicts. These conflicts over nationality, ethnicity, religion and tribal affiliations threaten social relations on every level, especially with globalization expanding the significance and reach of previously localized challenges. While tremendous advances have been achieved in every sector of human society, they have failed to keep apace with our moral and ethical capacities – to the detriment of all life on earth. It is thus imperative that moral and spiritual leaders of the world work together to articulate universal ethical principles and values that can form the basis for social cohesion, shared agreements and lasting peace.
Participants  signed a 14-point declaration to pursue the vision, principles and partnerships so necessary to lasting peace and development. India has long been acknowledged as the birthplace of so many of the world's wisdom and religious traditions and so it is natural that it would lead a global conversation on renewed efforts to establish a vision and framework for peace. I look forward to the coming year and the advances these efforts might bring.
United States of America
Amidst ongoing political partisanship, a rapidly altering political landscape and the waning global influence of the United States, the Global Peace Foundation – USA hosted a leadership conference entitled "America at a Crossroads: Leading Our Nation to Live Up to Its Founding Ideals".
The conference participants sought a way out of the partisan gridlock and moral confusion that has divided the nation by harkening back to the nation's founding. As I mention in my book, I believe that the secret to the United States' successes is not in its political or economic systems but rather the principles and ideals upon which it was founded.
These principles are enshrined in the Declaration of Independence: that "all men are created equal" and "endowed by their Creator with certain inalienable rights."  These spiritual principles defined the political and then economic systems that flourished and brought the United States prosperity and a leading place in global politics today.  For the United States to meet the global challenges of today, it must reclaim its moral authority by returning to these founding ideals.

In the opening chapter of my book, the Korean Dream, I mention three examples  to illustrate the power of a dream in changing the course of human history: the birth of Korea based on the principles of Hongik Ingan, Ghenghis Khan and the creation of the Mongol Empire driven by the desire to establish one people under Heaven, and the founding of the United States on the principles that to establish one nation under God.  At this turning point in history, it is my hope that we renew our commitment to the dreams and ideals that inspired our historic predecessors.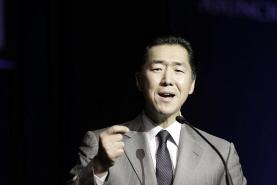 This year the vision of "One Family Under God" has inspired individuals to begin a model of national transformation in Paraguay, to pioneer new ways of interfaith cooperation in India, Nigeria, Ireland and the United States, and open the promise of reunification on a peninsula that only three years ago was thought to remain divided.
2014 has been a tremendous year. We have made monumental strides thanks to God and the incredible network of partners working together to realize the vision of "One Family under God".
I am deeply grateful to each and every person who has put forward their name, their assets, and their efforts to make every milestone possible.
I look forward to deepening our bond as we work together in the coming year.