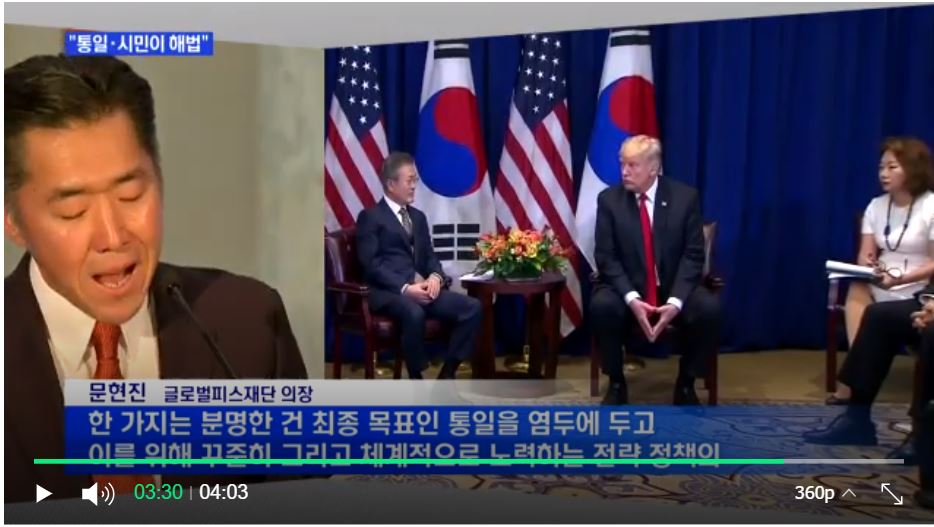 MBN reporter Moon Jung-woong reported on the International Forum for One Korea convened in Washington DC on December 12. The Korean TV news outlet said experts agreed that issues like sanctions and denuclearization should be viewed from a broader context.
The forum was held less than a month before Kim Jong Un's traditional New Year's address where he promised complete denuclearization, while also warning the U.S. should it undermine his sovereignty.
Dr. Hyun Jin Preston Moon, author of the award-winning book, "Korean Dream: A Vision for a Unified Korea," is quoted in the story. Dr. Moon's analysis of U.S.-Korea relations comes at a decisive moment in Korean history. He called for "strategic policy that has a clear end goal in mind – unification – and works towards it steadily and systematically," and support for a Korean-led, popular movement for reunification. "vital ingredients for transformation."
Dr. Moon's approach to resolving the Korean issue focuses on long-term solution through reunification based on Korea's long-held traditional values supported by broad-based civic engagement. Dr. Moon provides ongoing leadership for the Korean-led, globally supported grassroots movement for Korean reunification as Chairman of the Global Peace Foundation, a founding member of Action for Korea United which has spearheaded the One Korea Global Campaign.
The International Forum on One Korea, held on December 12, 2018 in Washington DC was organized by the Global Peace Foundation and Alliance for Korea United.
The original article in Korean can be found here. Dr. Moon's full keynote address at the 2018 International Forum on One Korea here.