"I, as one of many young people in the world, see the hope for world peace under this vision of One Family under God. It is so empowering. I've had firsthand experiences that every single person wants a world full of love because in the end, differences between people like race and religion don't matter." —Ohnshim Kim (2017 Global Peace Youth Interfaith Assembly, Indonesia)
Although the largest Muslim-majority nation in the world, Indonesia is also home to a great variety of religious and ethnic communities that inspired the country's motto, Bhinneka Tunggal Ika ("Unity in Diversity"), making it a pertinent host for the 2017 Global Peace Youth Interfaith Assembly in Jakarta. More than 130 young people from Indonesia, Japan, Korea, Colombia, Malaysia, the Philippines, Mongolia and the United States participated in the event that would inspire them beyond barriers of race, religion and nationality to converse as brothers and sisters of the same global family.
Ohnshim Kim from the United States was moved by the vision of "One Family under God" saying, "It is so empowering. I've had firsthand experiences that every single person wants a world full of love because in the end, differences between people like race and religion don't matter. When everyone believes in one God, which is where we all come from, instantly we are bonded as one family. Once we realize that, there is absolutely no reason to hate or hesitate to love anyone and everyone in the world. This is really about 'transcending' lines between humanity that may appear to split people. Because, as people of faith, we don't split but instead unite to love."
With such a wide variety of nationalities and religious backgrounds, youth who participated in the Interfaith Assembly had the enriching experience to dialogue with their peers in "Peace Circles," discussion groups that explore practical ways interfaith collaboration can make a difference in their corresponding communities. "Indonesia now is in the process of building peace," said Indonesian participant, Thomas. "This kind of activity is very important to really address interfaith and intercultural issues to young people."
Youth also had the chance to visit the largest mosque in Southeast Asia, the Istiqlal Mosque and the Catholic Cathedral Church built just across from it. Devoted attendees of both worship houses are renowned for their love and respect towards each other. On Christmas Day, a national holiday in Indonesia, Muslim youth will stand guard to protect Christians and their cathedral from any attacker. Likewise, when Muslims observe Ramadan, Christians attend the Istiqlal Mosque to share in the Islamic month's spirit of peace and show their respect. From the simplicity of sharing parking lot space to physically protecting each other from intolerant offenders, this display of interfaith cooperation is a true testament to the power of universal values that goes beyond religion.
Witnessing this symbol of solidarity and harmony amidst the diversity of Indonesia, assembly participant Nadhifa was profoundly moved saying, "Through this program I realize that we are all family despite our different ethnicities, beliefs, languages, and races. We are family that should love and support one another."
GPF's interfaith programs based on the vision of 'One Family under God' is an example of the shared responsibility people of faith have to bridge divisions, resolve conflicts and build ethical societies based on common ideals,  aspirations, principles and values.
Through its initiatives and programs, the Global Peace Foundation seeks to harness the moral authority of faith leaders to inspire, guide, motivate, and to be actively engaged in vital peace-making and peace-sustaining processes for the benefit of the entire human family.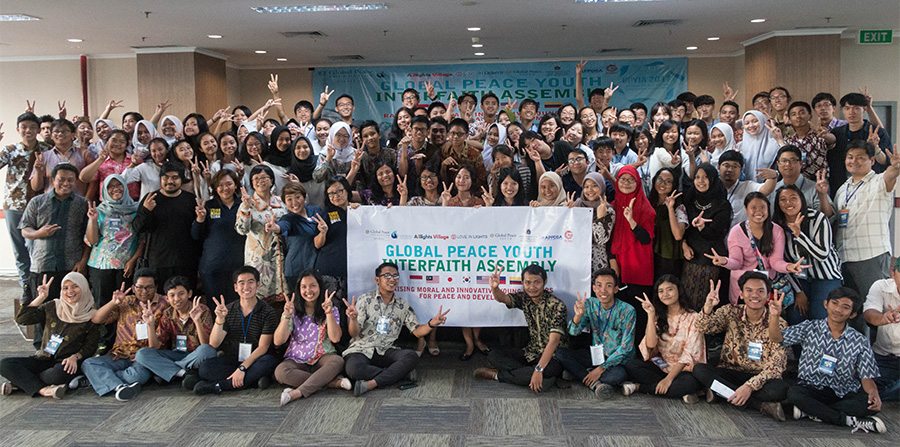 The original post appears on Global Peace Foundation. Global Peace Foundation is an international non-sectarian, non-partisan, nonprofit organization, which promotes an innovative, values-based approach to peacebuilding, guided by the vision of One Family under God.  GPF engages and organizes a global network of public and private-sector partners who develop community, national, and regional peace building models as the foundation for ethical and cohesive societies. Dr. Hyun Jin Preston Moon is founder and chairman of the Global Peace Foundation.