Africa is a continent vibrant with possibilities. There is vast potential in your great resources, a noble, spiritual and cultural heritage, and a large youth population yearning for a future of peace and prosperity.
Dr. Hyun Jin. P Moon (2018 Global Peace Leadership Conference, Uganda)
Africa's Great Lakes region has faced its share of challenges wrought by political instability, social conflict, underdevelopment and youth underemployment. The 2018 Global Peace Leadership Conference hosted in Kampala, Uganda, highlighted the potential of African countries to create new models of peace and development driven by moral and innovative leadership. The conference convened leaders from all sectors: educators, business owners, faith leaders, presidents, and parliamentarians. The unique held on August 1-2 conference drew representatives from around the world, including the United States, India, Nigeria, South Korea, Tanzania, and Kenya. Together, on a common affirmation of vision and values, they addressed regional peace and security issues and explored innovative approaches to fostering social cohesion, advancing excellence in education, improving economic opportunity, increasing youth productivity, supporting women's empowerment, and addressing critical community development needs.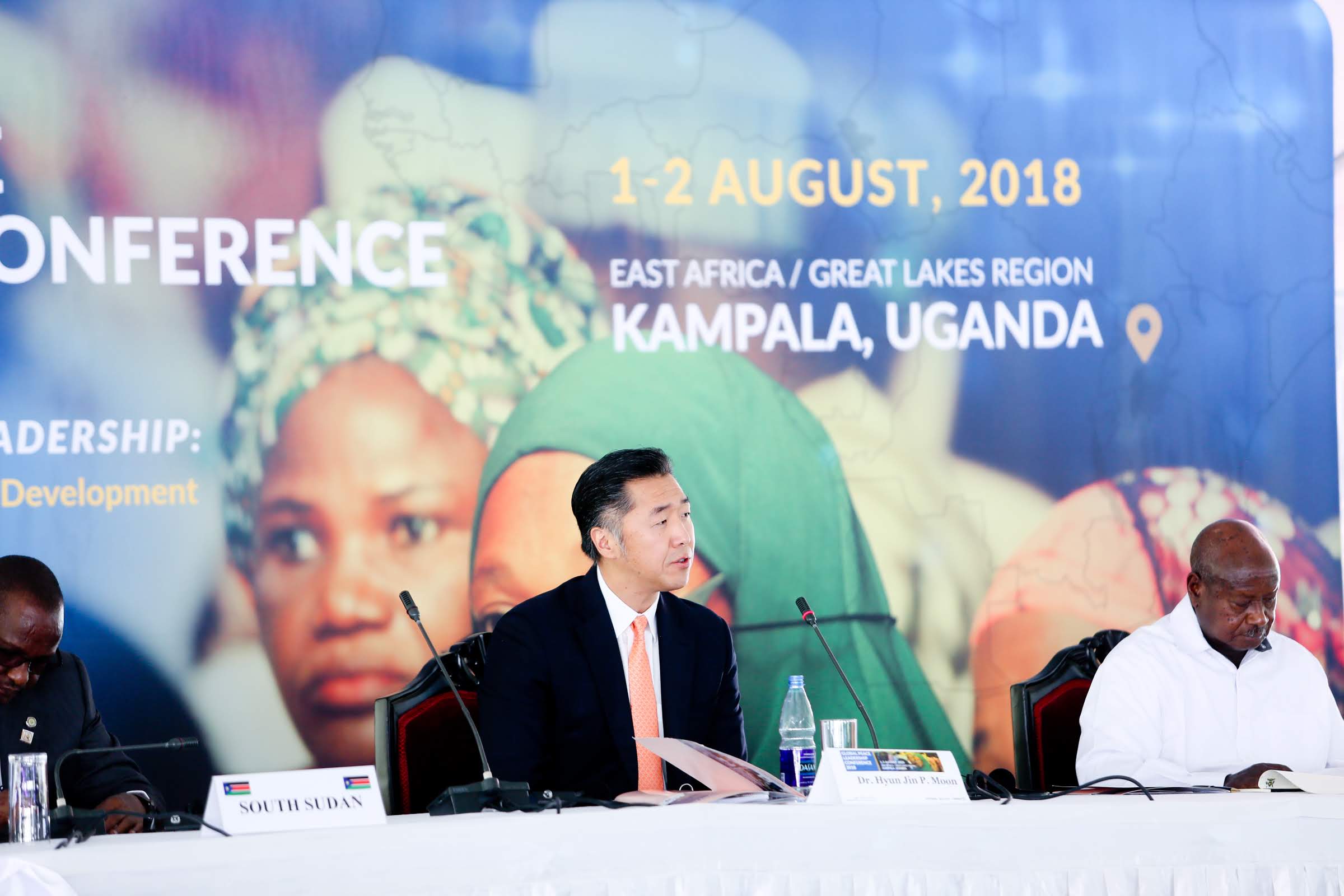 Dr. Moon spoke at the high level plenary, joining conference honorary chairman Uganda President H.E. Yoweri Museveni, and representative heads of state from Burundi, Tanzania, South Sudan, Nigeria, and Kenya.
Dr. Moon acknowledged the potential of Africa
while calling for an urgent need for moral and innovative leadership in all levels of society to harness this potential as Africa takes the lead in generating new approaches born in a paradigm that acknowledges the value and rights of every human being.
"To tackle the obstacles before us that undermine peace and development we need, at every level – from the highest echelons of government to the smallest village community – leadership that is both moral and innovative."
He also drew a parallel to the story of Korea and African nations who have come out of colonialism and the cold war. They are poised, he observed, at an opportune time to unfold a new page in their histories. He encouraged African nations and Korea to draw on their spiritual heritage as a foundation to begin this endeavor, inviting participants to partake in the March 1 commemoration to share best practices and reaffirm the common dream of making nations that can secure the happiness of all people. The conference highlighted the One Family Under God campaign, a project of GPF Nigeria now in its fifth year that engages religious and spiritual leaders and civil society partners to counter violent extremism and foster community-level social cohesion through partnerships and grassroots programs that stress universal principles and shared values. The campaign brings together Muslim and Christian leaders and traditional rulers to reconcile religious and ethnic divisions by drawing on the respect and authority of faith leaders to uphold values deeply embedded in faith traditions. GPF Nigeria patron and former Second Lady H.E. Hajiya Amina Namadi Sambo. "Since the world has become a global village we need a common goal, where universal aspirations, principles, and values come together. We can build social cohesion through the family, community and the positive use of cultural and faith values."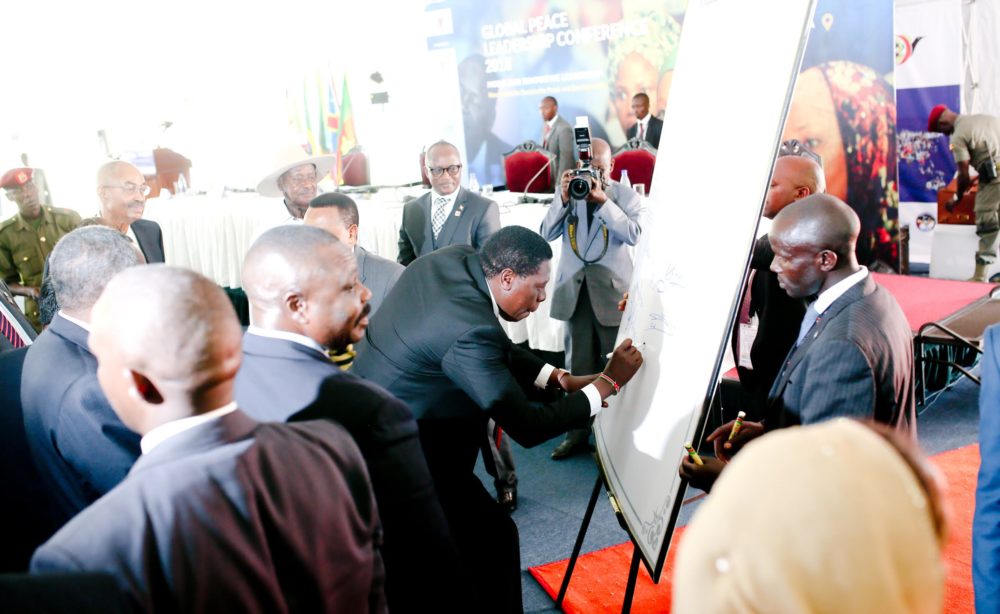 The Kampala Declaration, signed at the close of the conference recognized such shares values and committed to continued regional cooperation to develop and expand emerging models like the One Family Under God peacebuilding campaign and the Character and Creativity Initiative to make education relevant to 21st-century challenges. GPLC Uganda was co-convened by the Republic of Uganda, the Global Peace Foundation, the Intergovernmental Authority on Development, the Inter-religious Council of Uganda, and the Private Sector Foundation Uganda.
The original post appears on 
Global Peace Foundation
. Global Peace Foundation is an international non-sectarian, non-partisan, nonprofit organization, which promotes an innovative, values-based approach to peacebuilding, guided by the vision of One Family under God.  GPF engages and organizes a global network of public and private-sector partners who develop community, national and regional peacebuilding models as the foundation for ethical and cohesive societies. Dr. Hyun Jin Preston Moon is founder and chairman of the Global Peace Foundation.